The Moon Tarot Card Anhänger

Good on you.
Aus recycelten und verantwortungsbewusst gewonnenen Materialien hergestellt.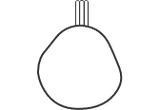 One at a time.
Keine Massenproduktion, jedes Schmuckstück ist auf Bestellung gefertigt.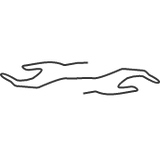 Made to last.
Zeitlose Handwerkskunst und Designs, die für die Ewigkeit gemacht sind.
Der Mond ruft dazu auf dem Unterbewusstsein Aufmerksamkeit zu schenken. Er steht für das Träumerische: Für alle Wünsche und Sehnsüchte, aber auch alle Ängste und Täuschungen. Er ruft dazu auf die Augen zu öffnen, um sich Ängsten zu stellen und Träume aktiv zu verfolgen, um ein glückliches Leben zu führen und nicht in Ängsten und Illusionen unterzugehen.
Die Tarotkarten werden mit eigens für die Kollektion entwickelten Produktionsschritten im "Used Look" hergestellt.
Anhänger 17 x 9 mm
Der Anhänger kann mit unserer Panzer, Anker, Singapore, Venetian und Catena Long Link Kette getragen werden.
The Moon Tarot Card Anhänger
The Moon Tarot Card Anhänger
Filigrane Schönheit
Dieser schöne Anhänger ist sehr filigran gefertigt und erst bei genauerem hingucken erkennt man das Motiv, was aber gar nicht schlimm ist, sondern einen echten Hingucker daraus macht. Ich bin sehr glücklich mit diesem Anhänger
Wunderschön
Der Anhänger ist wirklich wunderschön und detailliert hergestellt. Man merkt, dass es sich um ein einzigartig angefertigtes Schmuckstück handelt, da es leichte Unregelmäßigkeiten aufweist. Das gibt für mich einen gewissen Charakter und zeigt, dass es sich eben nicht um ein Produkt vom Fließband handelt. Würde den Anhänger jederzeit wieder kaufen und hoffe bald meine Sammlung mit den anderen Karten erweitern zu können :)
Moon Card Anhänger
Super gute Qualität und sehr fein gearbeitet!