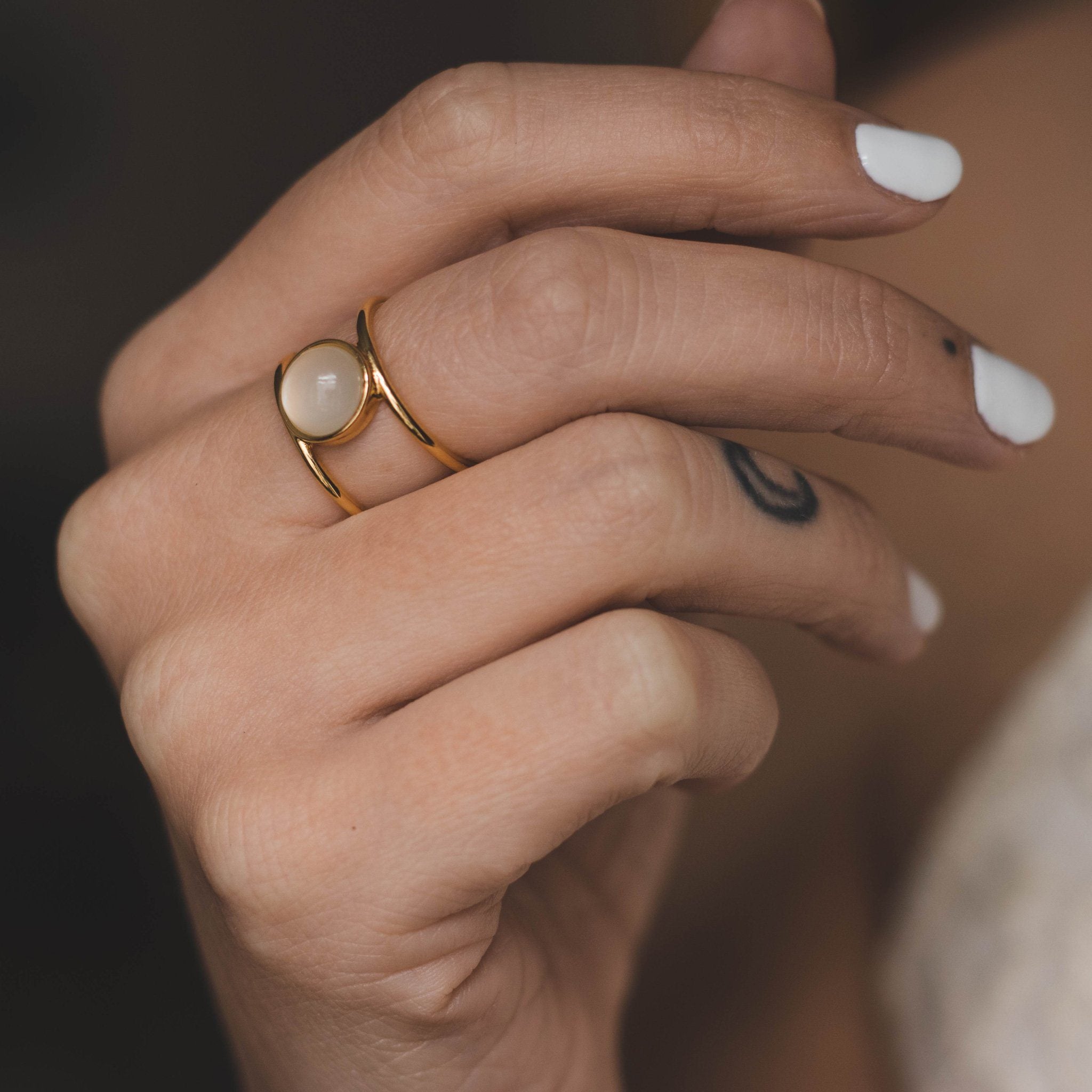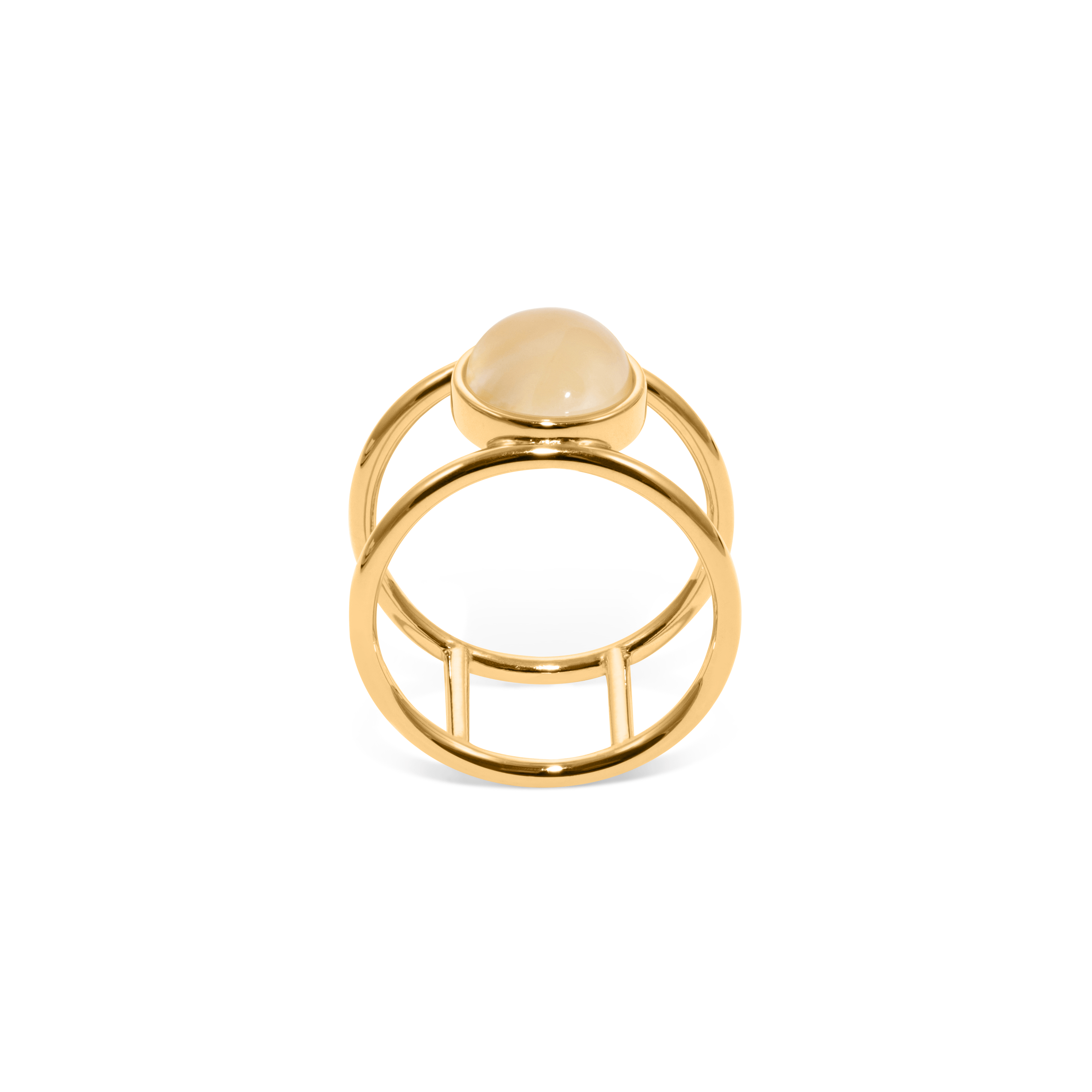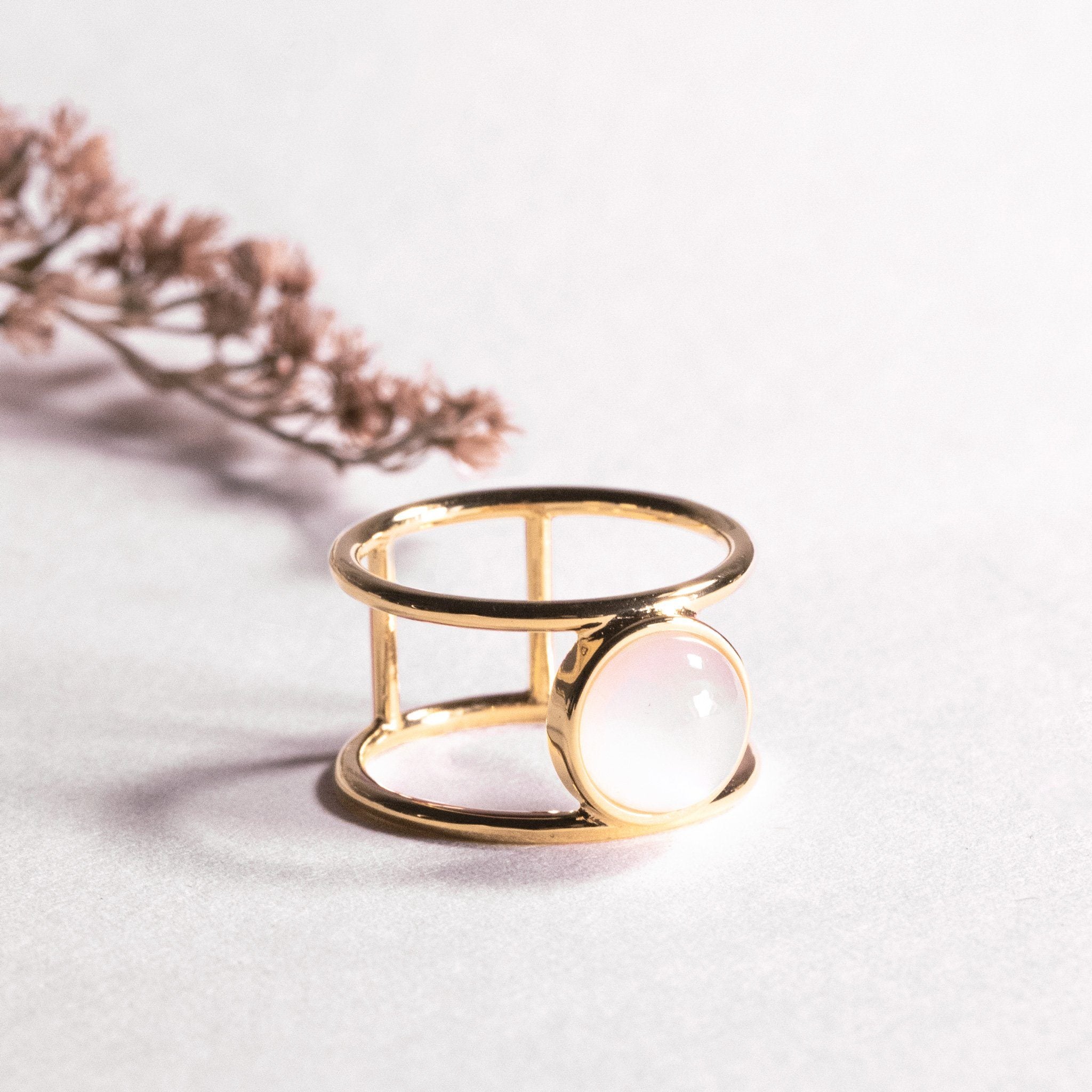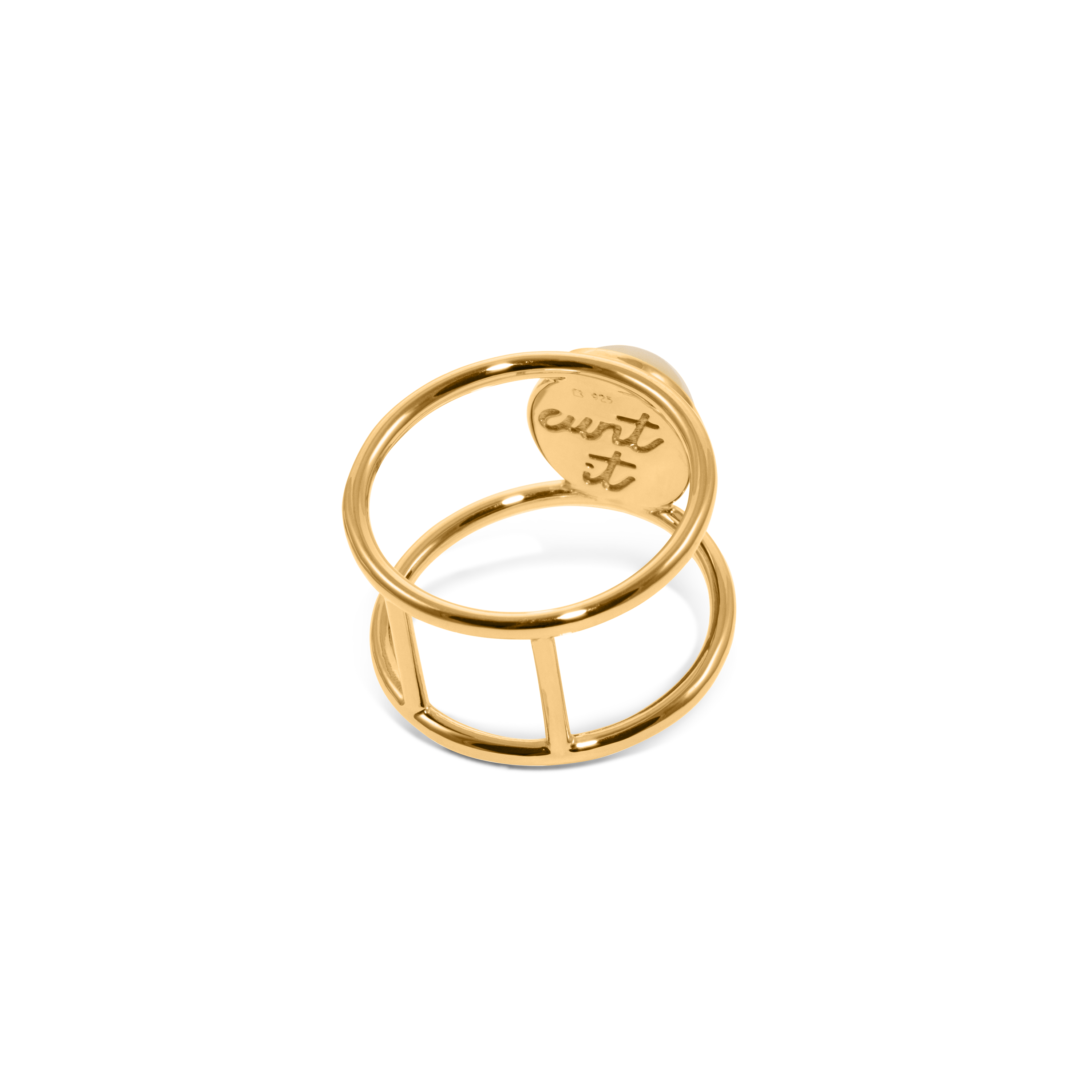 Magic Spell Double Ring Mondstein
---
You can give us a little more time to handcraft your jewelry piece and want to save more?

Jeder hat Träume und Wünsche, die er gerne leben würde. Gedanken, die er versteckt, weil andere sie unvernünftig oder komisch fänden. Ich habe es mir in so vielen Lebenssituationen so schwer gemacht, weil ich Angst davor hatte, was andere über mich denken. Ich wusste genau, dass ich es am besten weiß, aber dennoch hatte ich Angst vor Kritik und verurteilen den Blicken und Worten. Und ich weiß, dass es vielen anderen auch so geht. Und für all diese Menschen habe ich nun einen Zauberspruch, und er lautet: Cunt it."Cunt it" ist ein Ausdruck, den man sagt, wenn man im Begriff ist eine unvernünftige Entscheidung zu treffen. Es ist ähnlich einem "Fuck it", aber noch angemessener für Situationen, in denen du auf die Meinung anderer scheißt und auf dich selbst hörst. Es soll dich daran erinnern, dass du deiner Intuition folgen darfst. Du bist kein dummes Schäfchen, du bist ein Mensch mit einer inneren Stimme. Wir bestehen nicht nur aus Sicherheit, Vernunft und Vorsicht. Wir bestehen auch aus Leidenschaft, Spaß und Risiko. Denn manchmal brauchen wir auch die unvernünftigen Dinge, um wieder bei uns anzukommen. Manchmal ist unvernünftig vielleicht auch vernünftig. Meine Kollektion ist für Menschen, die ihren eigenen Weg gehen wollen und immer mal wieder daran erinnert werden müssen, dass das absolut okay und richtig ist. Wer also jetzt in eine Situation kommt, in der er kurz davor ist sich für etwas zu entscheiden, was er eigentlich gar nicht will, kann zu meinem Schmuckstück greifen, tief durchatmen und sagen "Cunt it"!

Dicke 1.5 - 11 mm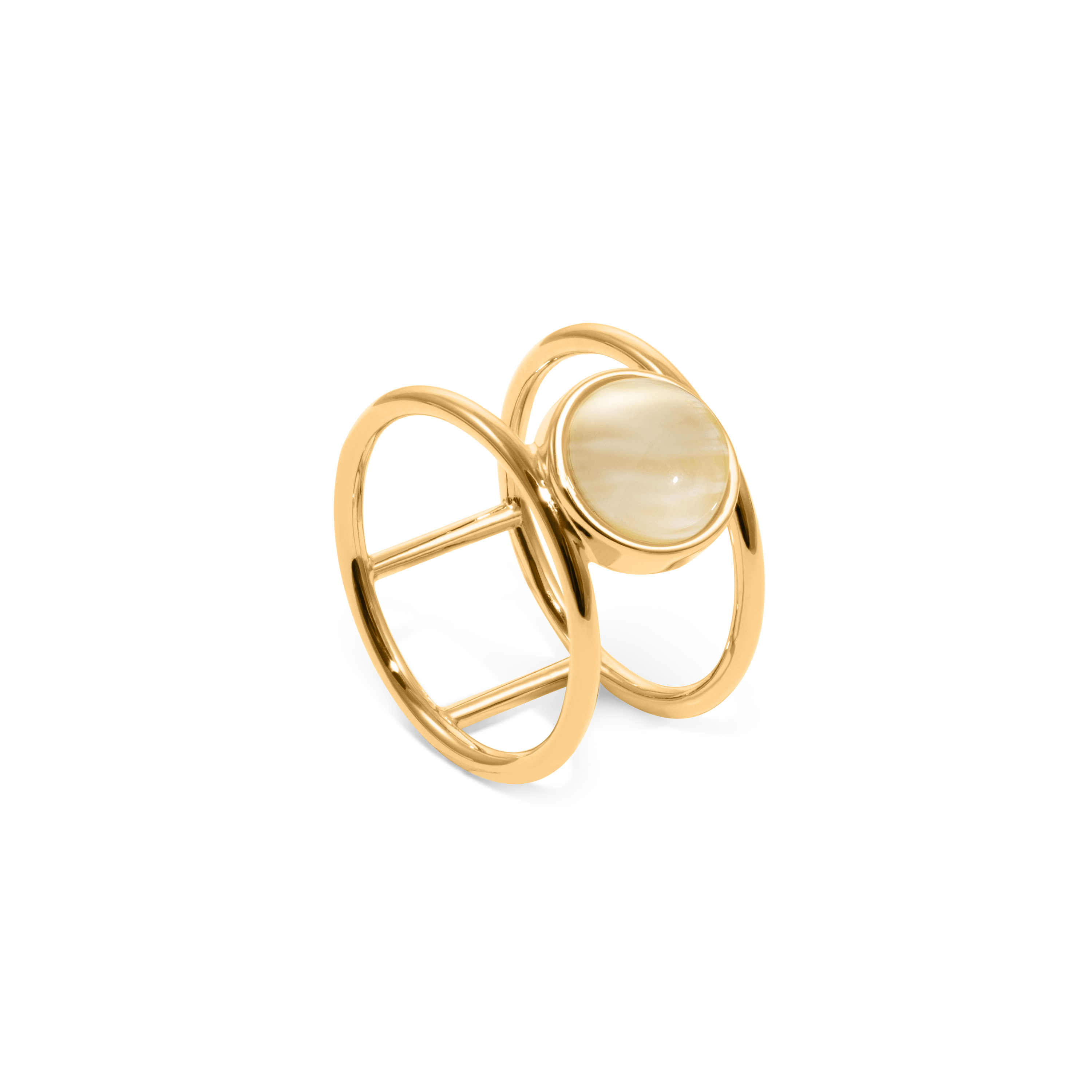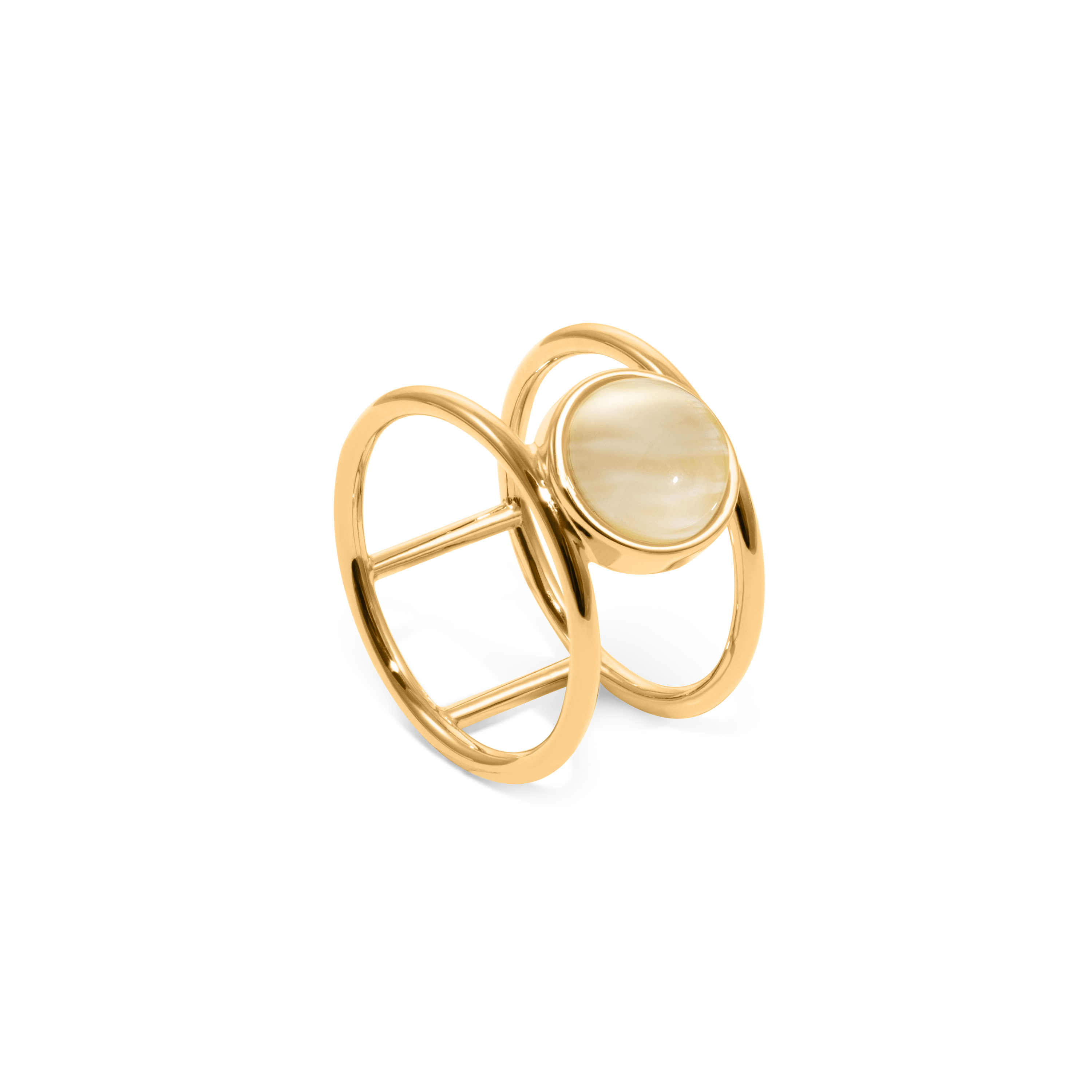 This product is rated 5.0 of 5.0 stars.
It has received 9 reviews.
Elena

Verifizierter Käufer

5 Stars

Magic Spell Double Ring Mondstein

Christina C.

Verifizierter Käufer

Bester Service

Der Ring ist Wunderschön aber besonders hervorzuheben ist der tolle Kundenservice.

Vielen Dank nochmal

Dominik S.

Verifizierter Käufer

Jessica H.

Verifizierter Käufer

Sehr gut

Ein wunderschöner Ring, der ein perfekter Begleiter ist

Kelly H.

Verifizierter Käufer

5 Stars

Magic Spell Double Ring Mondstein
Linke oder rechte Pfeile zum Navigieren drücken.
Anzeigen der Folien 1 bis 3 von 5
Rezensionen geladen
Rezensionen hinzugefügt
AUF DER SUCHE NACH ETWAS ÄHNLICHEM?
DAS KÖNNTE DIR AUCH GEFALLEN