The Wheel of Fortune Tarot Card Kette

Good on you.
Aus recycelten und verantwortungsbewusst gewonnenen Materialien hergestellt.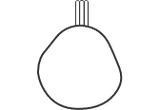 One at a time.
Keine Massenproduktion, jedes Schmuckstück ist auf Bestellung gefertigt.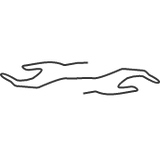 Made to last.
Zeitlose Handwerkskunst und Designs, die für die Ewigkeit gemacht sind.
Die Tarotkarte 'das Rad des Schicksals' steht für die stetige, unaufhaltsame Veränderung der Gegenwart. Die Karte soll uns daran erinnern, dass weder Vergangenheit noch Zukunft uns verändern können. Unerwartete Ereignisse, positiv wie negativ, müssen als Lebenslektionen akzeptiert werden, um nicht in eine negative Stagnation zu verfallen. Gleichzeitig muss die Möglichkeit der Eigeninitiative erkannt werden, um das eigene Schicksal in die Hand nehmen zu können. Das Rad des Schicksals warnt somit vor unbedachtem Handeln und Stillstand, und ruft zur Offenheit gegenüber Veränderung und gleichzeitiger Selbstbestimmung auf. Das Ziel ist eine klare Sicht auf Ursache und Wirkung.
Die Tarotkarten werden mit eigens für die Kollektion entwickelten Produktionsschritten im "Used Look" hergestellt.

Anhänger 17 x 9 mm
Sehr hübsch mit kleinen Makeln
Die Tarotkarten-Kette an sich ist sehr schön. Sie ist schon eher filigran, aber genau so ist es passend :-)! Die Länge gefällt mir ebenfalls. Am Verschluss ist bei mir leider ein sehr spitzes Überbleibsel (man muss etwas aufpassen mit dem Finger, sonst piekst es), es war jetzt aber kein Grund für mich die Kette zurückzuschicken. Sowas sollte aber natürlich überprüft werden.
Die Idee an sich ist super :-).
The Wheel of Fortune Tarot Card Kette
Einfach wunderschön!
Top Qualität und sehr filigran gearbeitet.
Bin rundum zufrieden!
Tarotkarten Kette
Super schön, es ist schon meine 2. Kette von euch und bin mega zufrieden
Alles top gelaufen
Schöner Anhänger mit sehr viel Liebe zum Detail.
Könnte etwas größer sein aber diese Meinung ist eher subjektiv. :-)